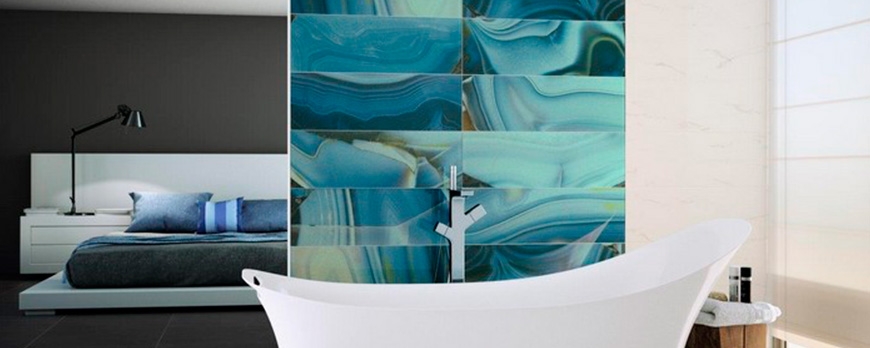 Glass tiles, a touch of elegance and originality
The presence at home of materials that are different from ceramics makes your decoration much more appealing. It is not difficult to find some of such tiles on the market, that have been designed not to be the basis of your decoration, but as a complement that will provide a different and original look to the room where you will place them.
Where they are used, these pieces assure an eye-catching elegance. These tiles give this space a remarkable effect, offering a more interesting look and a much more personal atmosphere.
glass tiles allow us to obtain a more pleasant, elegant and personal atmosphere.
There are many types of glass tiles that can be used to complement the style of your home decoration, but also larger formats are able to turn into real glass walls, glass panels or glass screens to divide a room. This kind of material creates the feeling of amplitude and light that helps to make it visually larger.
But glass tiles are not only translucent. You will find them with colours and designs that will offer a different look. They are ideal not only for your home, but also for shops and restaurants.
Using these tiles, we can create a unique and pleasant space that will transmit a feeling of welfare and comfort not only home visitors, but also to your clients acceding to your store. They can be an excellent decorative solution for restaurants, bars or fashion boutiques.
Their elegance, easy maintenance, beauty and long etcetera of attributes can turn any place into another different one, which attracts attention and marks a very personal style. In the Ondacer.com catalogue, you can find various solutions of this kind, to make your home or business look so different.