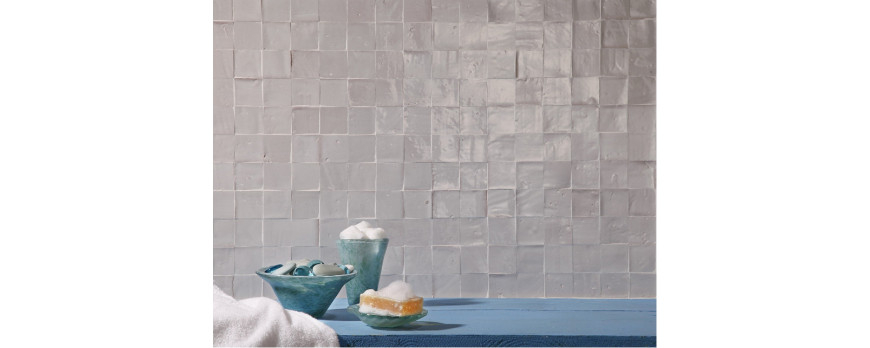 9 benefits of handmade tiles
The craft of handmade tiles has never ceased to be a trend, gaining prominence due to its characteristic imperfections in which each tile has its own prominence as it has been manufactured one by one.
The added value that is given to this type of design because each piece is unique and singular is what differentiates them from the rest.
The process of handmade tiles allows customizing and making each piece to measure from its colours, tones, measurements and formats, to its finishes and textures. The fact that it is a handmade product does not make it an outdated product, with this type of process you can create trendy and innovative pieces, being able to experiment with different techniques to achieve the best finishes.
We give you several reasons why it may be beneficial to use handmade tiles instead of industrially produced tiles.
1. Unique and exclusive. Each piece is created by hand, which means that no two are exactly alike.
2. Variety of designs. Being handcrafted pieces, handmade tiles offer a wide variety of designs, patterns, colors and tones.
3. Personalization. Designs can be customized to suit the client's needs and tastes.
4. Natural materials. Most handmade tiles are made from natural materials, making their production more environmentally friendly.
5. Durability. They are more resistant and durable than those manufactured industrially, due to their manufacture with a glaze process and their firing at high temperatures, in addition to the fact that they absorb water.
6. Aesthetic value. Its handmade appearance brings warmth and personality to any space.
7. Versatility. They can be used on different surfaces, such as walls, floors and countertops.
8. Increase in home value. The quality and appearance of handmade tiles can add to the value of any real estate property.
9. Cultural heritage. Handmade tiles are part of the artisan tradition of many cultures around the world, so acquiring them is a way to preserve and promote these traditions.
Take a look at our variety of handmade tiles and if you still have questions about why you should use them, you can contact info@ondacer.com and we will resolve them without obligation.