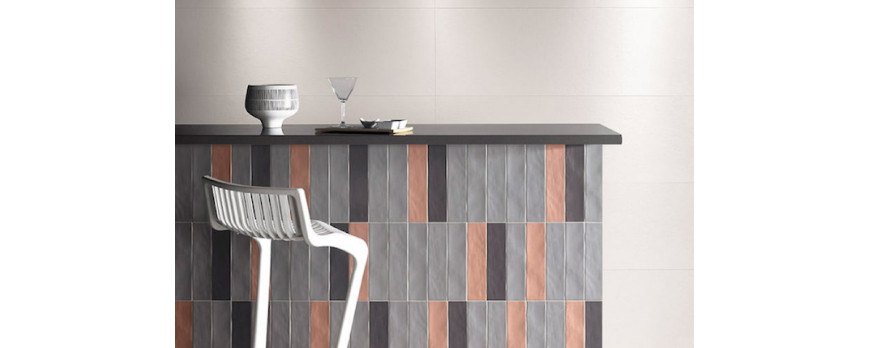 Tiles for modern kitchen
Modern kitchens fit in with the activity of everyday life and become the most frequented room of the house. That's why its design must be elegant as well as simple and functional.
One of the most commonly used elements in modern kitchens earthenware for the cladding of its walls. This option is widely used due to the wide variety of styles it allows, its easy cleaning and its resistance.
What should a modern kitchen look like?
Modern kitchen have an attractive design but it must combine practicality with storage capacity. Here are their characteristics:
➔ Suitable and comfortable. Their design adapts to your needs. Their furniture have large capacity for storing food and kitchen utensils.
➔ Timeless. Their design must combine with the style changes that are made in the house
➔ Light-flooded. Beyond good natural light, they must have well-distributed lighting spots so that all areas are perfectly lit.
➔ Spacious and quiet. To give us peace and a feeling of spaciousness, we have to choose neutral tones such as white, black or grey. Bright coulours should only appear in certain elements.
Another characteristic of modern kitchens is that, generally, the floors and walls are tiled, thanks to the great functionality that its use brings, its cost, its strength, its easy cleaning and the wide choice of model it offers.
Lastest trends for modern kitchen
The choice if tile will depend on the style and elements which are present in the kitchen, such as the colour or design of the granit or marble on your worktop, whether or not there are stainless steel elements, etc. Some of the latest trends in kitchen tiles include: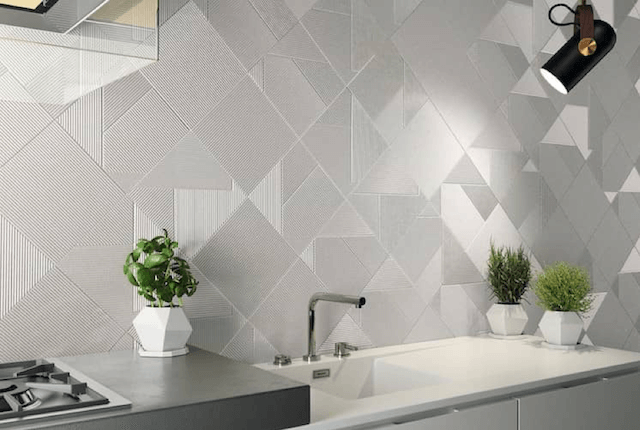 STRIPES GLACIER is a tile for modern kitchen. It is a wall tile matt and glossy finished. It is square-shaped, with embossed stripes in different directions.
Its colour brings extra light and gives a feeling of amplitude to the atmosphere. This model is also available in beige, brown and blue colours, some with shade variations, which will bring distinction and natural to your kitchen.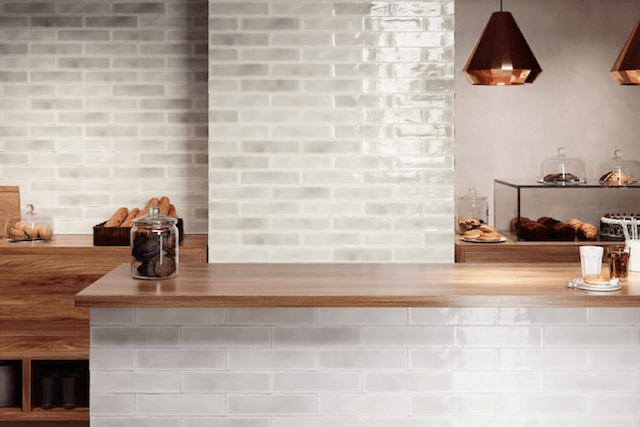 The modern kitchen tile VITRAL DK COCINA is a glossy-finished white body rectangular wall tile.
It shows shade variations (beige, white, lavender and green colours) and low opacity. If this is added to its glossy finish, it brings a refreshing effect to the decoration as well as brightness to the kitchen.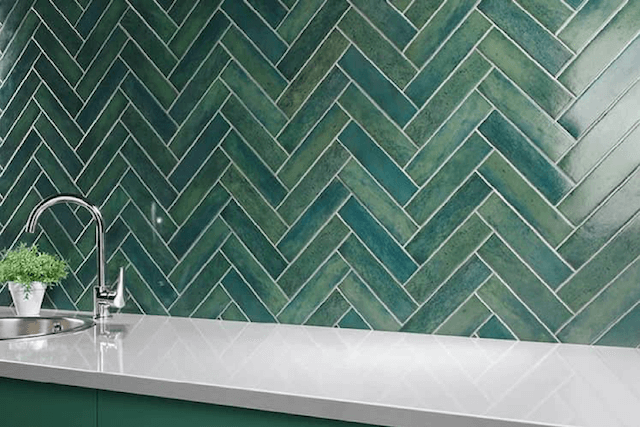 CAPRI model can be used for flooring as well as for walls. It is an extruded porcelain stoneware, so it has a great strength and hardness. Its finish is glossy and has a mosaic version (on a mesh). Tiles can be rectangular or pentagonal.
Its colours are very nuanced. Some of them are neutral : neve, fumo and terra, while others are intense (oliva, indigo, nero) and are perfect for protecting a sophisticated and urban. For lovers of contrast, a kitchen wall can combine neutral rooms with brightly coloured ones.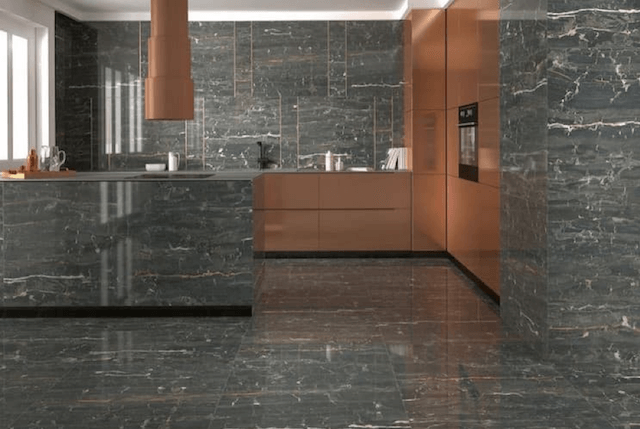 LEONARDO KITCHEN is a tile for modern kitchens that imitates marble. Its finish is glossy and it contains gold. This tile is rectified, so their edges are perfectly straight.
It is available in white, black and copper colours, but all of them show the characteristic colourful veins and gradients of the marble. It is a perfect tile for modern and sophisticated kitchens to which it brings a timeless and elegant style.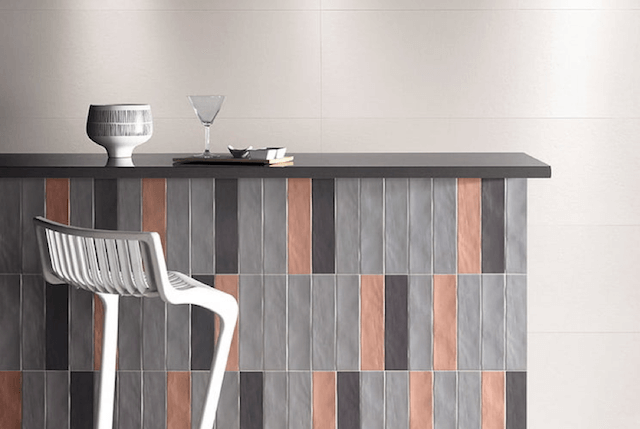 The finish of the EVOQUE NAT white body wall tile is satin. Its special for cladding tiles are rectangular.
You will find them in 4 colours: blanco, gris cemento, gris oscuro y crema. Colours can be used separately. But what makes it more attractive is the intercalated placement of the tiles because of the contrast that creates a fresh and very jovial style.
In modern white kitchens, STRIPES GLACIER tiles are an excellent choice while for modern small kitchens, the special wall tile will be VITRAL DK COCINA or the neutral colours of CAPRI.
If you want grey tiles in your modern kitchen, EVOQUE NAT is a great option. And if you prefer a more elegant style, but with a natural touch, LEONARDO KITCHEN tiles are perfect.
In the style you are looking for, at Ondacer we can guide you in your choice. With more than 70 years of experience, we are experts in ceramic coating.