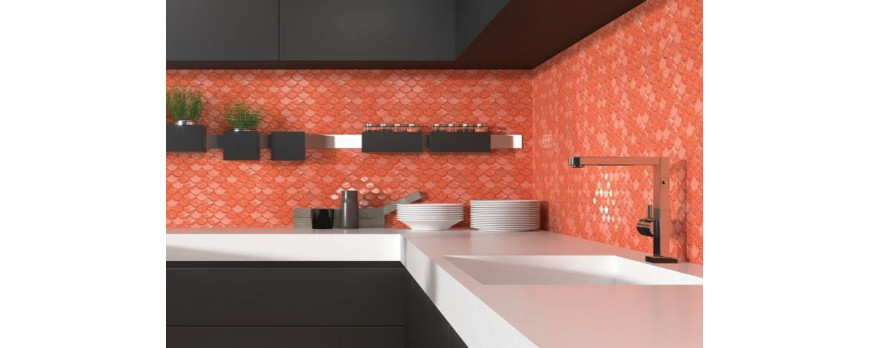 Glass tiles for kitchens
Kitchen space has shown various trends in decoration. Especially in the kind of materials used to cover your walls: from natural stone though porcelain stoneware, to glass
Nowadays, the brightness and elegance of the glass tiles in kitchens have gained strength. In addition, they offer a wide range of colours, including modern metallic ones such as gold, silver or bronze.
How to combine glass tiles in the kitchen: gold and silver
The gold and silver colours have the ability to highlight any style of decoration, including the kitchen area. It is advisable to use them in a balanced and delicate combination with neutral colours (white, light grey, beige…) or deep colours (black, terracotta, burgundy…)
For example:
➔ Use gold or silver glass tiles as covering the strip of the wall on the counter. It is a way of highlighting space and not overloading it.
➔ Use silver or gold glass tiles as a wall cladding. For example, the island wall or some walls in the kitchen with no furniture.
➔ Combine the golden tiles with white doors, countertop and furniture. It is perfect for spacious kitchens.
➔ Use gold tiles with beige and light-sand colours if you want a vintage or romantic styled kitchen.
➔ Combine silver glass tiles with white or light-grey furniture and worktops.
Trends in Glass tiles for kitchen
You can use glass sheets or beautiful glass tiles and mosaics in the kitchen. Up coming trends are: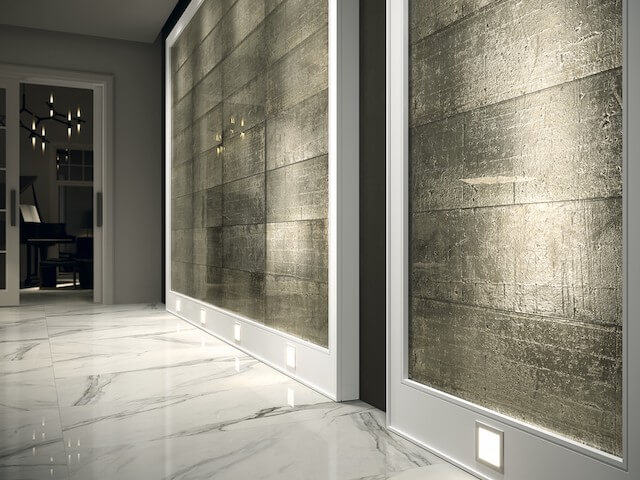 CRYSTAL ROCK is a special glass tile for wall cladding. Its manufacture is artisanal, that is why the beauty and character of each tile is unique.
In the kitchen, these silver or dark gold tiles bring light and luxury to the atmosphere. Choose one of these colours and coat the kitchen wall and baseboards, or just some of the walls. Try to match dark gold with neutral colours on doors and countertops, or with stainless Steel.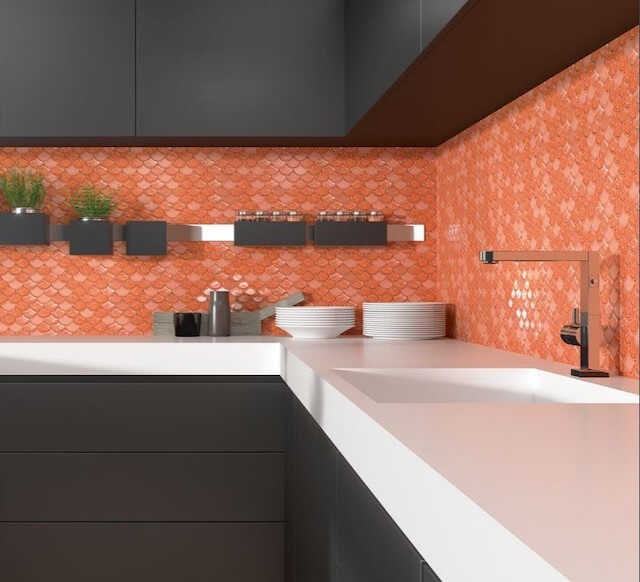 CORAL is one of the glass tiles for kitchen on a mesh with a fish scale design. It is satin finished and each piece is 30x26cm.
This mosaic has two shades of coral pink colour, a soft but very glossy colour. It is perfect for walls of a cheerful and modern kitchen, while offering a comfortable and warm atmosphere. Ideal for a contemporary and very fresh style.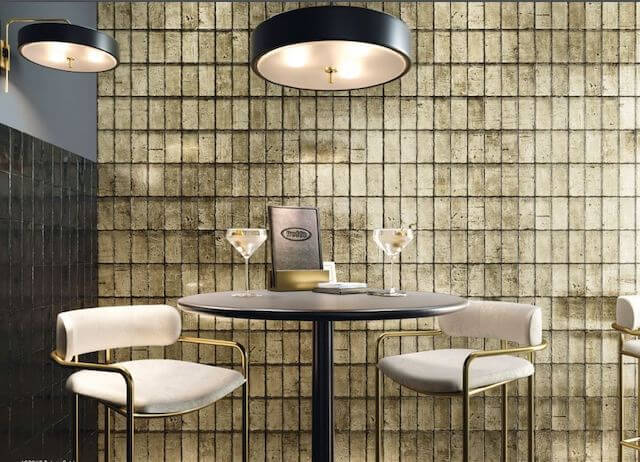 DELUXE GLASS are glass tiles in various rectangular sizes. One of them has a pen-like angular termination.
They are available in grey, silver and gold colour, all of them have shade variations. Their soft dark shades make them look like exposed concrete, but with the glossy or satin finish provided by the glass. They are perfect for creating a kitchen that is both rustic an elegant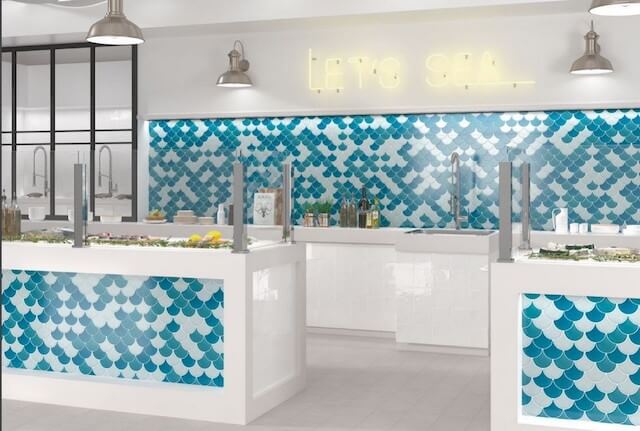 GEMA is another glass tile for kitchen. It is a fish scale design mosaic in relief and matt finish. Each one is 33x32cm.
This mosaic has three shades of blue: light blue, intense greyish blue and ocean blue, they are colours that provides peace and calm. Matching it with white colour, this glass mosaic creates an interesting combination in modern kitchens with a Nordic trend.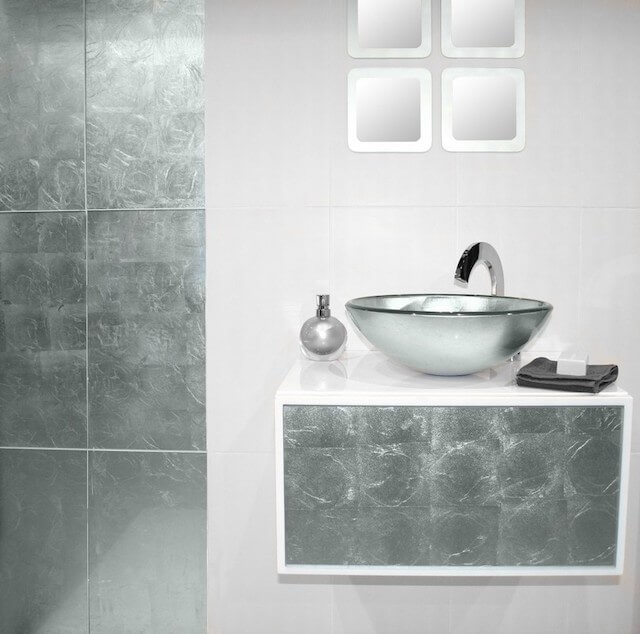 PAN DE PLATA is a large format glass tile (30x60x1cm.) decorated with sheets of silver, Perfecto for covering bathrooms or kitchens walls.
Its intense silver colour combines perfectly with whites, a combination that makes kitchens and bathroom look simple and very elegant, with the sophistication that only minimalism offers.
Glass tiles in the kitchen are synonymous with light and elegance. Dare to create rustic, modern, romantic, minimalist styles… whatever you like. You can transform your kitchen and give it greater distinction with the different finishes and shapes that these glass coverings offers.
We can help you achieve the perfect cladding for any room, home or office. At Ondacer we specialise in bringing you the latest trends in decoration.